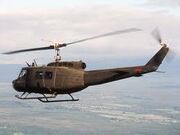 The Bell Helicopter company was tasked with making a helicopter for the U.S. military to fill the role of a Medical Evacuation and Utility Helicopter. The military got what they wanted in the mid 1950s with the turbine-powered UH-1. It has been in use since the late 1950s up until today, it is the most common utility helicopter of the West. More than 16,000 have been produced worldwide
Ad blocker interference detected!
Wikia is a free-to-use site that makes money from advertising. We have a modified experience for viewers using ad blockers

Wikia is not accessible if you've made further modifications. Remove the custom ad blocker rule(s) and the page will load as expected.