Book Eleven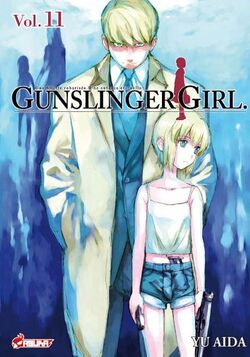 Cover of the eleventh volume of the Japanese release of the Gunslinger Girl manga series
Information
Professional Status
Personal Status
Debuts
Portrayal
As winter continues, Claes and Beatrice move herbs inside to protect them from the cold while the Medical Staff develop a new form of conditioning which they hope will not be so hard on the girls' brains. Also, a new skin implantation process has been acquired via a technology swap with the United States. However, all these new treatments have almost exhausted the SWA's budget.
While undergoing the new treatments, Henrietta dreams of the attack on her family that sent her to the SWA. Giacomo Dante returns from exile to take control of the Five Republics movement. He demands the release of Aaron Cicero and other imprisoned terrorists and places a cruise missile warhead in the Bell Tower of St. Marks in Venice, which he threatens to detonate if his demands are not met. The SWA and GIS arrive in force and storm the tower, but Giacomo is ready for them and both sides take heavy casualties in the attack, though the Bell Tower is saved from destruction.
As the SWA recovers from the events of Venice, the story moves to the past and focuses on Enrica Croce, sister to Giuse and Jean, and the courtship of Jean and Sophia Durante.