Book Fifteen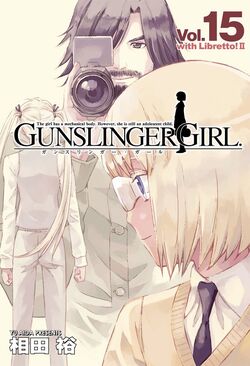 One of two covers for volume fifteen of Gunslinger Girl. Triela, Speranza Guellfi and Fugo Meuller are featured on the cover.
Information
Professional Status
Personal Status
Debuts
Portrayal
With Dante taken down, the Italian Government believes that the Social Welfare Agency has seen too much and is now a threat. With new orders from the Government, troops move in on the SWA at the Turin Power Plant, secureing Dante. Meanwhile, another detachment prepares to raid the SWA headquarters, and demands that the SWA staffers stand down. Claes decides to step in as well and goes out to try talk to the troops surrounding them. Meanwhile, Pope John XXIV addresses a crowd at Saint Peter's Square asking for the violence to stop and the recovery operation begins at New Trino. With Padania defeated, it is time for the Social Welfare Agency to come to an end. [1]
According to the Japanese retailer Mangoh, this volume will be the final volume of Gunslinger Girl. The final issue will ship on December 17th. [2]
References
Edit
↑ Referenced from Animenewsnetwork
Ad blocker interference detected!
Wikia is a free-to-use site that makes money from advertising. We have a modified experience for viewers using ad blockers

Wikia is not accessible if you've made further modifications. Remove the custom ad blocker rule(s) and the page will load as expected.