Book Five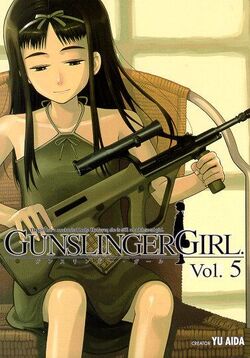 Cover of the fifth volume of the English release of the Gunslinger Girl manga series
Information
Professional Status
Personal Status
Debuts
Portrayal
Marco's ex-girlfriend Patricia launches an investigation into the truth behind the Social Welfare Agency with a colleague. Franca is captured by Public Safety, but is rescued by Franco and Pinocchio. Jose and Henrietta arrive at the location where they were holding Franca to find their comrades dead. Franco, Franca, and Pinocchio escape to Franca's farm in Frascati and Pinocchio returns to the home of Cristiano Savonarola just before the SWA launches an operation to arrest him. Triela gets her revenge on Pinocchio while Franco, Franca, and Cristiano make a break for it.
Ad blocker interference detected!
Wikia is a free-to-use site that makes money from advertising. We have a modified experience for viewers using ad blockers

Wikia is not accessible if you've made further modifications. Remove the custom ad blocker rule(s) and the page will load as expected.