Book Four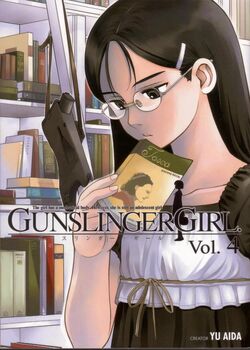 Cover of the fourth volume of the English release of the Gunslinger Girl manga series
Information
Professional Status
Personal Status
Debuts
Portrayal
Claes experiences a normal day, though events result in some abnormal reactions. Triela deals with her loss to Pinocchio and makes a surprising new friend in Naples. A first generation cyborg, Beatrice, and her handler, Bernardo, help the SWA eliminate a rogue military group smuggling weapons to the terrorists.
Ad blocker interference detected!
Wikia is a free-to-use site that makes money from advertising. We have a modified experience for viewers using ad blockers

Wikia is not accessible if you've made further modifications. Remove the custom ad blocker rule(s) and the page will load as expected.