Book One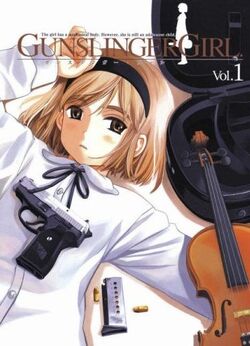 Cover of the first volume of the English release of the Gunslinger Girl manga series
Information
Professional Status
Personal Status
Debuts
Portrayal
Henrietta, a combat cyborg working for a secret Italian intelligence agency, and her handler Jose attack a Five Republics terrorist safe house, supported by Jose's brother Jean and his cyborg, Rico. In Naples, the cyborg Triela and her handler Hilshire are searching for a Mafia turncoat who wants to turn state's evidence. The SWA suffers their first casualties when a cyborg and her handler are found dead in a public park.
Ad blocker interference detected!
Wikia is a free-to-use site that makes money from advertising. We have a modified experience for viewers using ad blockers

Wikia is not accessible if you've made further modifications. Remove the custom ad blocker rule(s) and the page will load as expected.