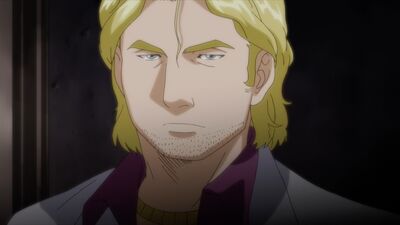 Leonardo Conti was the self-proclaimed "handsome and excellent journalist" who works with Marco's ex-girlfriend Patricia at Ultima magazine. He learned from Patricia that Marco works for the Social Welfare Agency and that she was writing an article on the Agency. Leonardo told Patricia of the rumors that the SWA uses child assassins and offered to co-investigate the Agency with her. They spoke to an incarcerated prisoner who claims that the SWA is the modern version of "Operation Gladio" and is operating to destabilize the rightists and others backing Northern secession. Leonardo continued his digging into the SWA.
Leonardo was set up by the SWA through an intermediary (Colonel Farn). When he showed, Marco tried to place him under arrest, but Patricia appeared and was taken hostage by Leonardo. Angelica appeared and blinded Leonardo with a flashlight on her pistol. When he let go of Patricia to shield his eyes, Angelica shot him. [1]
References
Edit
Ad blocker interference detected!
Wikia is a free-to-use site that makes money from advertising. We have a modified experience for viewers using ad blockers

Wikia is not accessible if you've made further modifications. Remove the custom ad blocker rule(s) and the page will load as expected.