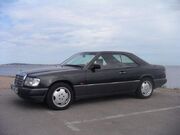 The Mercedes-Benz 300CE-24 is a somewhat rare two-door coupe version of the 300 E sedan. The "24" notes the number of valves in the engine and differentiates the model as a high-performance edition compared with the other CE two-doors.
The 300CE-24 is seen in several pages in Gunslinger Girl's book
Book Two
, as the car formerly owned by one of
Pinocchio's
murder victims. He later uses the coupe to transport his mark's body to a meeting place where
Bruno the Cleaner
arrives to take delivery of the body and the car, so both can be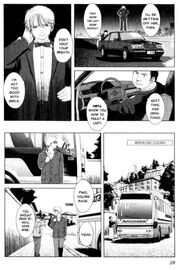 disposed of discreetly. Most of these so called "transport cars" later have a date with a scrap-crusher, to destroy any evidence contained inside.
While waiting for Bruno, Pinocchio lies on the rooftop of the car and smokes a cigarette, as if imitating his mentor John Doe, who would likewise nap atop his Maserati Kyalami.
Other vehicles seen in Book Two
Edit