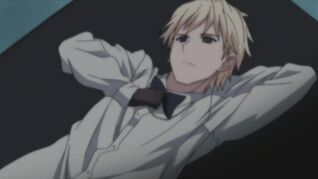 Pinocchio was an incredible assassin and serial killer, brought up and trained by his foster father Cristiano. He was found by Cristiano and John Doe, a former CIA agent, as they searched and eliminated the Polacco family and it's residence. Pinocchio was found hidden in a cellar, and assumed to be some sort of merchandise.
Pinocchio was trained heavily, and committed his first assassination at the age of 10, though he committed several high-priority murders throughout his life. His first assassination forced him to kill a little girl, which ultimately resulted in him being unable to harm young girls again.
Pinocchio faces off against Triela. The first, in Montalcino, results in Pinocchio knocking Triela out as well as disarming her of her weapon given to her by Hilshire. However, because of his past, he is unable to kill her and leaves the scene.
Later on, Triela and Pinocchio face of again in a shoot out as well as a hand-to-hand battle. Triela, using her cybernetic fingers, finished Pinocchio off once and for all with a finger stab to the neck.