Rico
Kanji
リコ
Romanji
Riko
Information
Race
Cyborg
Gender
Female
Age
14
Professional Status
Handler
Jean Croce
Personal Status
Status
Alive
Debuts
Anime
Episode 1
Portrayal
Japanese
Kanako Mitsuhashi (S1)

Anri Shiono (S2)

English
Luci Christian
Rico (リコ riko) is a child cyborg assasin in the Social Welfare Agency. Her handler is Jean Croce.
Background
Edit
Confined to a hospital by severe birth defects [1], Rico was signed over by her parents to the SWA on her eleventh birthday.
Appearance
Edit
Rico has light skin and blond hair which she wears in a hime-cut style which exposes her ears. Her eyes are light blue. She tends to wear masculine clothing, similar to that of Triela.
Personality
Edit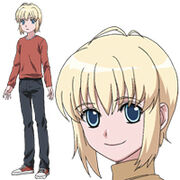 Rico is a rather quiet girl, usually only speaking when spoken to, though when she is with the other girls she does speak a little more freely. She feels happiness over the little things, and loves her new body and life at the SWA, viewing each day as a blessing and maintaining a happy disposition. She has a strong devotion to her handler, and only fears losing her body and not being useful to Jean anymore. Rico appears to be the only cyborg with a clear memory of her life before coming to the SWA.
[2]
Her preferred weapons are the "Pre-B" CZ-75 pistol and the Dragunov SVD. She has also been shown wielding a Beretta SCP-70/90 and is additionally shown training with a IMI Galil MAR and a Benelli M4 Super 90 shotgun. Her preferred support weapon is the MG 3 general purpose machine gun. During the Nuclear Power Plant attack Rico uses a SCAR-H CQC (stock folded) equipped with a 553 EO-Tech sight, and a tac-light with a pressure pad attached to a vertical foregrip.
↑

Aida, Yu:"Gunslinger Girl", ADV Manga, Vol. 1 - p.41

↑

Aida, Yu: "Gunslinger Girl", ADV Manga, Vol. 1 - p.56