SIG-Sauer P-239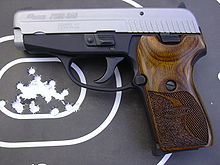 SIG Sauer P239
Information
Professional Status
Personal Status
Debuts
Portrayal
The SIG Sauer P239 was mostly designed for the U.S. market as a Concealed Carry Weapon (CCW). It is available in 9mm, 40 S&W, and 357 SIG. It can take 7, 8, and 10 round magazines and can have plastic or wooden grips. It is a double/single action pistol that can be fired when the hammer isn't cocked followed by a short reset, single action that makes for fast and accurate follow up shots with a very short, light trigger pull.
Henrietta
carries the two-tone model with a stainless steel slide. 
Elsa de Sica
carried the all black, nitron coated model.  Henrietta's P239 can most prominently be seen in the end credits of the anime.