Steyr AUG H-Bar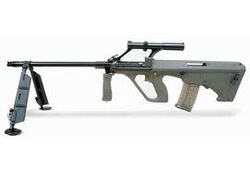 Steyr AUG H-Bar
Information
Professional Status
Personal Status
Debuts
Portrayal
The AUG H-Bar (Heavy Barrel) is the Light Machinegun (LMG) variant of the AUG assault rifle series. The differences to a Steyr AUG A2 are longer, heavier barrel with a bipod for sustained firing, a 42 round magazine, and fires from open bolt to prevent heated parts from "cooking" off bullets. Used by Angelica during a roadblock.
Ad blocker interference detected!
Wikia is a free-to-use site that makes money from advertising. We have a modified experience for viewers using ad blockers

Wikia is not accessible if you've made further modifications. Remove the custom ad blocker rule(s) and the page will load as expected.