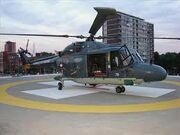 The British Lynx helicopter came into operational use in 1977 and is still in use, mostly by the British military and a majority of the world's navies. The Lynx set the Federation Aeronautique Internationale airspeed record for helicopters, making the Lynx the fasted production helicopter in the world.
Ad blocker interference detected!
Wikia is a free-to-use site that makes money from advertising. We have a modified experience for viewers using ad blockers

Wikia is not accessible if you've made further modifications. Remove the custom ad blocker rule(s) and the page will load as expected.